Jobs
Bangladesh Army Job Circular 2020 Download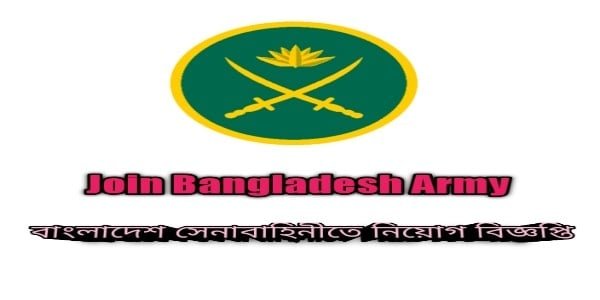 Bangladesh Army Job circular has published on my website.
Army Job Circular Published
Bangladesh Army job circular has published on Army official website. The authority wants some talent, healthy candidates. Bangladesh Army has published some vacancies for the post of BMA course. Besides they also published some vacancies for civil job. So I am going to discuss with you about Bangladesh Army Job Circular. Let's start about Army Job Circular. As a result You can download Bangladesh Army Job Circular.

 Download Army Job Circular Here



Every year Bangladesh army job circular  published some vacancies for Soilder post.So this year they also published it. Now i am giving you army job circular download. Therefore you must follow the picture.

Job summary
Application Start Date : Already Start
Deadline : February 8 , 2020
Age Limit : 17 – 21 Years
Martial Status : Unmarried
Nationality : Bangladeshi
Application Fee : 1000 Taka only ( One Thousand Taka Only )
So you want to save this circular, you can download it as PDF file. Click here to Download PDF.



Educational requirement
Therefore You need some Educational Requirement. Please read my post properly.
National Medium
Firstly candidates must have a good Education background Both in SSC And HSC.

Then Candidates need GPA -5 In SSC (Out Of 5).Other hand Candidates need GPA -4.50 ( Out of 5)

English Medium

At first candidates need O level graduation.

Then candidates must have got A grade in 3 subjects. On the other hand candidates have to got B Grade in 3subjects

How To Apply For This Job ?

At first you have to go on www.jobsbangladesharmy.army.mil.bd

Then you get a homepage. Now you must click Apply Now.



Further you have to put your all information with accurate details.

Finally you click the submit bottom. At last you can download your applicant copy.

Payment Process
When you have got applicant copy, you need to payment. If you have no idea about it. No problem. Now i am tell you payment process.

Firstly an applicant can pay his payment using Teletalk Sim,Trust Bank -cash, visa, master card, Rocket, BCash

Then you have to paid 1000 taka only( one thousand taka)

So any candidate have any problem.he can communicate with the authority. The authority Hotline number +8801885022022.




Exam Process of Bangladesh Army job
At first i want to inform you that it is a Defence job. The exam is taken step by step.

At first they will check your pshical test. Your height,weight etc will check.

As a result you can pass the test, they will cal you for written test.

At last if any candidate overcome this test, the authority will call him for viva.


Finally you will the part of Bangladesh Army.

BMA Training

Meanwhile BMA training will taken with a long time 3years.
WheN your training will start, you can continue you study.

Important notice for Applicants
Candidates of BNCC/CADET/MCS candidates can apply through his own college.

The authority can be changed their circular.

If they changed it, they would inform you.


The authority can do everything if they want any change.
In conclusion I want to suggest you to apply. Because you will get a chance to show your patriotism. At last May Allah bless you. After that Stay with my website.
Facebook Comments