Festivals
Pahela Baishakh 1427 – Images, SMS, Status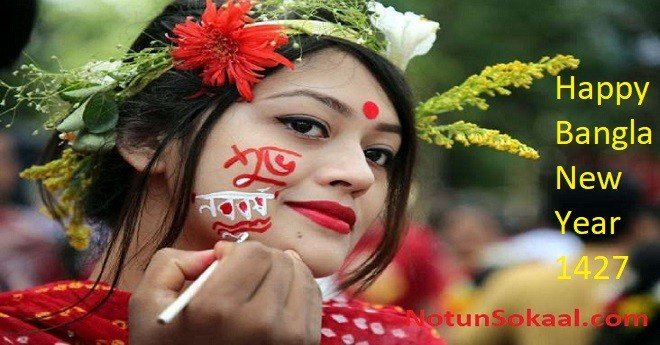 Pahela Baishakh 1427
Dear visitor at first i want to wish you Happy Bengali New Year/ Shuvo Noboborsho . So all of us want to celebrate the day in different ways. However, we want to share SMS, Images, Facebook Status etc among our friends and family. In addition i have cone to you with some beautiful Boisaki SMS , Facebook Status , Images etc.
The first day of Bangla year is celebrated as Pahela Baishakh. It is one of the biggest festival in Bangla Hetiage. So the day is celebrated festivity across the country. Therefore, i am going to tell about Pahela Baishakh 1427.
The day is celebrated annually in our country. So, it is celebrated in villages and towns. People from every spear celebrate the day with colorfully. However, there are some difference in celebration the day between Towns and Villages.
How We celebrate Pahela Baisakh ?
We are Bangladeshi. As a Bangladeshi we celebrate this day in different ways. People from all walks of life celebrate this day. Since this day is associated with our Bangle tradition, we enjoy this day. Pohela Boishakh (Bengali New Year) is the first day of the Bengali calendar. It is on 14 April in Bangladesh and 15 April in other places. Source Wiki
Village People Pahela Baishakh Celebration
Though our Bengali culture is losing day by day, the culture is still sustained through the village people. The Village people of our country have hold of our Bengali Heritage. Social Festivals are still survive because of them. As a result people in village celebrate this day according to their age-old and customs. Special meals are arranged at home. Baisakhi meals are sold in different places. People eat PANTA Rice and ELISHA fish to celebrate the day.  On this day girls and boys wear traditional dress. Moreover, boys wear Punjabi and Girls wear Saari. Different types of programs are arranged to celebrate the day. At first a Rally will held on this day with people from all walks of life. Then different types Bangladeshi traditions are displayed.
Boisakhi Mela People in rural area will arrange a Fair for this day. So, it is called Boisakhi Mela. A Boisakhi Fair is an annual affair in rural Bangladesh. It is generally held on the occasions. Most of the book fair generally sits on the bank of a river. However the Boishaki fair serves a short of exhibition of Bangali traditional products. As a result many kinds of things are brought here for show and sale. So, the children likes sweets, toys and balloons. On the other hand women like to jewelry, earthen wears, Brass ware, Iron Ware , Saree etc.
Boisakhi Mela is an occasion of great joy and excitement among the villagers. Circus , Magic Shows, Merry Go Rounds etc are arranged to celebrate the day.
Recommended Post
Bangla New Year SMS 1427 – বাংলা নিউ ইয়ার এসএমএস
Towns People Pahela Baishakh 1427 Celebration
In towns various social cultural organizations arrange interesting   programs on this day. At Ramna Botmul, it is celebrated gorgeously. So, many urban people wake up early in the morning and go to the function in the morning. Therefore, they go to the function to enjoy poems reciting , songs , stage drama, lecture etc. On the other hand many people eat Panta Hilsha in the morning. So, children wear different types of dresses. Then they go to Boisaakhi Mela and enjoy the day.
Different types of TV Programme are arranged by TV Channels. So, they telecast Drama, Songs, Movies whose are related with Boisakh.
How we celebrate Pahela Boisakh 1427 ?
Due to Covid – 19 virus our country has lock down. Our government is very strict in this problem. Our honorable prime Minister Sheikh Hasina has declared that this year we will not celebrate the day. Because of our safety is very important. So, this year we will not celebrate the day colourfully . Even we can celebrate this day at home and sharing foods among the poor. So, i suggest you not to waste your money. Please help the poor.
Pohela Boisakh 1427 Facebook Status and Facebook Profile Picture
As usual we want to send Pahela Boisakh greeting on social media. In addition we want to share Pahela Boisakh Status on social media among our facebook Friends. As a result , you are searching some beautiful Facebook Status. At last i ensure you that i think those status is only for you. So, copy the status and share them on Facebook.
Pahela Baisakh 1427 Images
To get more images like this please comment here.
In Conclusion, Boisakh is an important festival for the Bangali Nation. So Everybody try to celebrate this festival as they can. Hope the new year comes to you with happiness. Thank for reading this article.
Facebook Comments