HSC
Suggestions
HSC English Suggestion 2020 -1st and 2nd paper Sort suggestion
hsc english suggestion 2020
A proverb goes The more you read , the more you learn. we are always try to share the best suggestion in our website. If you are looking for HSC English Suggestion 2020 , you can see the post.
HSC English Suggestion 2020 – 1st and 2nd paper
Here we bring in front of you the HSC english first and second paper Suggestions. If you study these things carefully, then hopefully you will get the most from inside. Follow the suggestion for doing better in the examination. To know about HSC you can get it from wikipedia.
HSC English Suggestion 2020
English is a major subject for the HSC Candidates. So, the subject has a huge value. If you want to make a good result, you have to get a good marks in English. English subject is divided into two parts. The first one is English 1st Paper . On the other hand the second one is English 2nd part. Here i will share both part exam suggestion.
HSC English 1st Paper Suggestion 2020
English 1st paper is easier than English 2nd paper. But our students get furius when they hear the subject name is English. So, they think that it is very hard subject. Though the subject is hard, there are some easy way to make a good result. If you think you are weak in English, we will help you. However, now i am going to share HSC English 1st Paper Suggestion. Moreover, it will help us .
HSC English Suggestion 2020 PDF Download
Sometime we want to save the file permanently. In this case we need the file as PDF. Here you also can get HSC English Suggestion With PDF File. Click Here to Download
HSC English 1st Paper Suggestion With Question Pattern
Before sharing the HSC suggestions i want to introduce you about your HSC English 1st Paper Question Pattern. I have already said that the subject is very easy. There are some reason to said the subject easy. If you see the previous year questions, you see that the subject has some easy topics. With that you can easily get a good marks. There will be seen passage, here you will find your all questions answer . On the other hand ,there are unseen passage, here you also find some question which answer you will get from the unseen passage.
| | |
| --- | --- |
| Question Type |  Marks |
| Reading Test | 60 |
| Writing Test | 40 |
PART A : READING (60 Marks)
HSC English 1st paper suggestion
Rearranging
Kazi Nazrul Islam

Nelson Mandela

Alexander the Great

Sheikh Saadi and the Gang of Robbers

King Solomon and Queen of Sheb

Nasiruddin Hojja

The Death Sentence of Socrates

The boyhood of Sher-E-Bangla

The simplicity of Einstein

King Solomon's wisdom

A Fox without a Tail

An English Poet and his friend

Hazrat Abdul Quader Zilani
HSC Exam Suggestion English
PART B : WRITING (40 Marks)
 Completing a story

Writing Informal Letters/E-mail Informal Letters


HSC English Final Suggestion 2020
Theme of the poems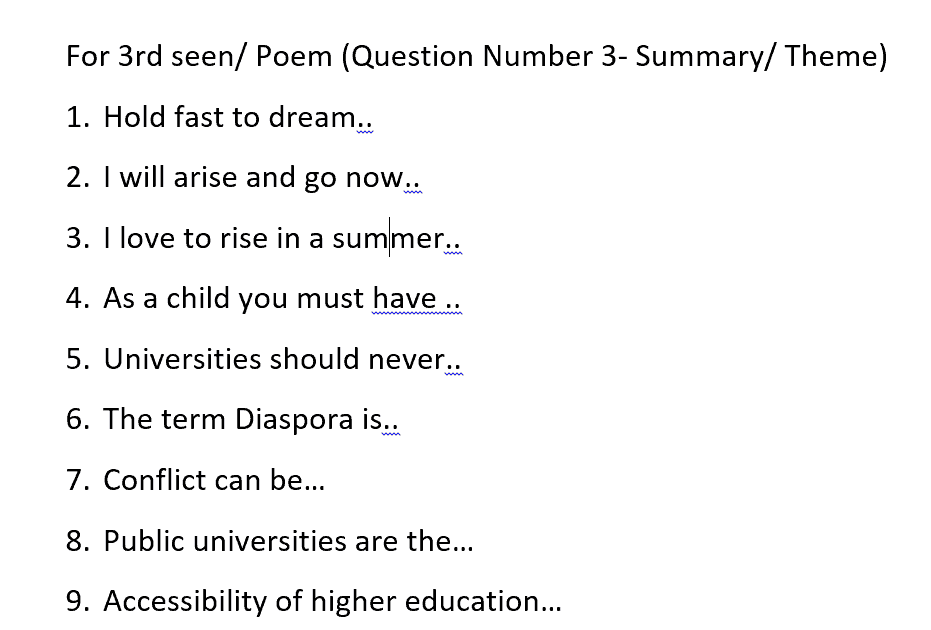 Analyzing graphs / charts

Paragraph Writing
HSC English 2nd Paper Suggestion 2020
Formal Letters (Question-13)
HSC English suggetion
Report Writing (Question-14)
Paragraphs (Question-15)
Composition (Question-16)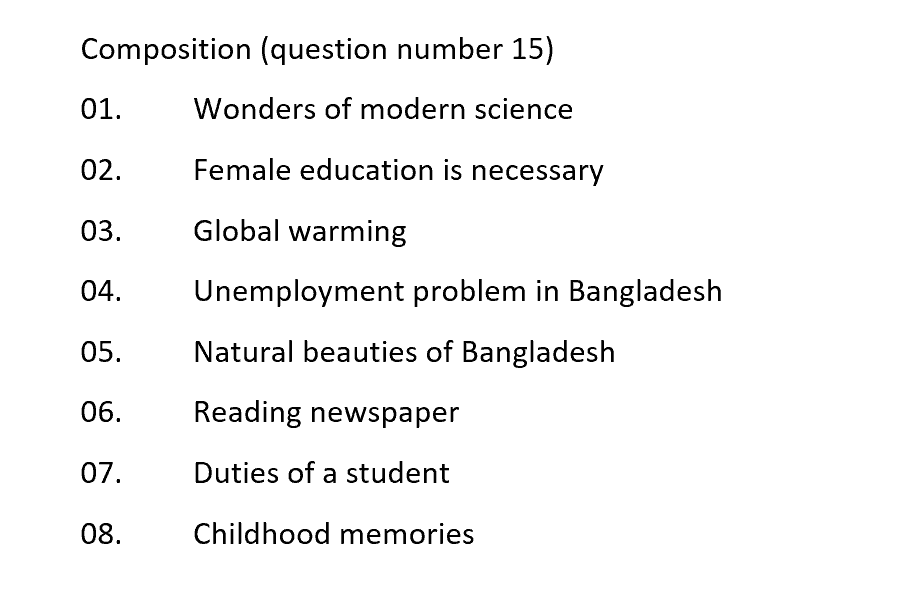 Why You need A Suggestion ?
Life is a journey. We live in modern civilization. So, nowadays we are competing against another. Specially the competition rate is increasing in Education Sector. A suggestion is very needy for a student. If you are a HSC Candidates, a good suggestion is crying need for you. All of us want to do well in the exam. However, you read more and more. But only reading more and more you can not make a good result. Therefore, you need a suggestion which will help you to make a good figure in HSC Exam. Moreover, HSC Candidates it is very importan for you. Because your HSC Exam is knocking at the door. You do not have much time to complete the textbook. In this stage you are in trouble . We are always try to remove your problem. So i come to you with a good suggestion.
Importance Of English
We all know that English is an International Language. So, it is very needy for our daily life. Not only for students but also for all people. So, you have to read English More and more. We can not get a job without English. After the HSC Exam , you will try to take an admission in a famous college. If you want to get admission in a reputed college, you have to get a good result in English. So dear candidates now you guess that how important English is !
To get all the suggestion, result, routine etc visit our website https://notunsokaal.com/
To get all Updates Join our Facebook Group
Recommended Post For You HSC Exam Routine 2020
Facebook Comments